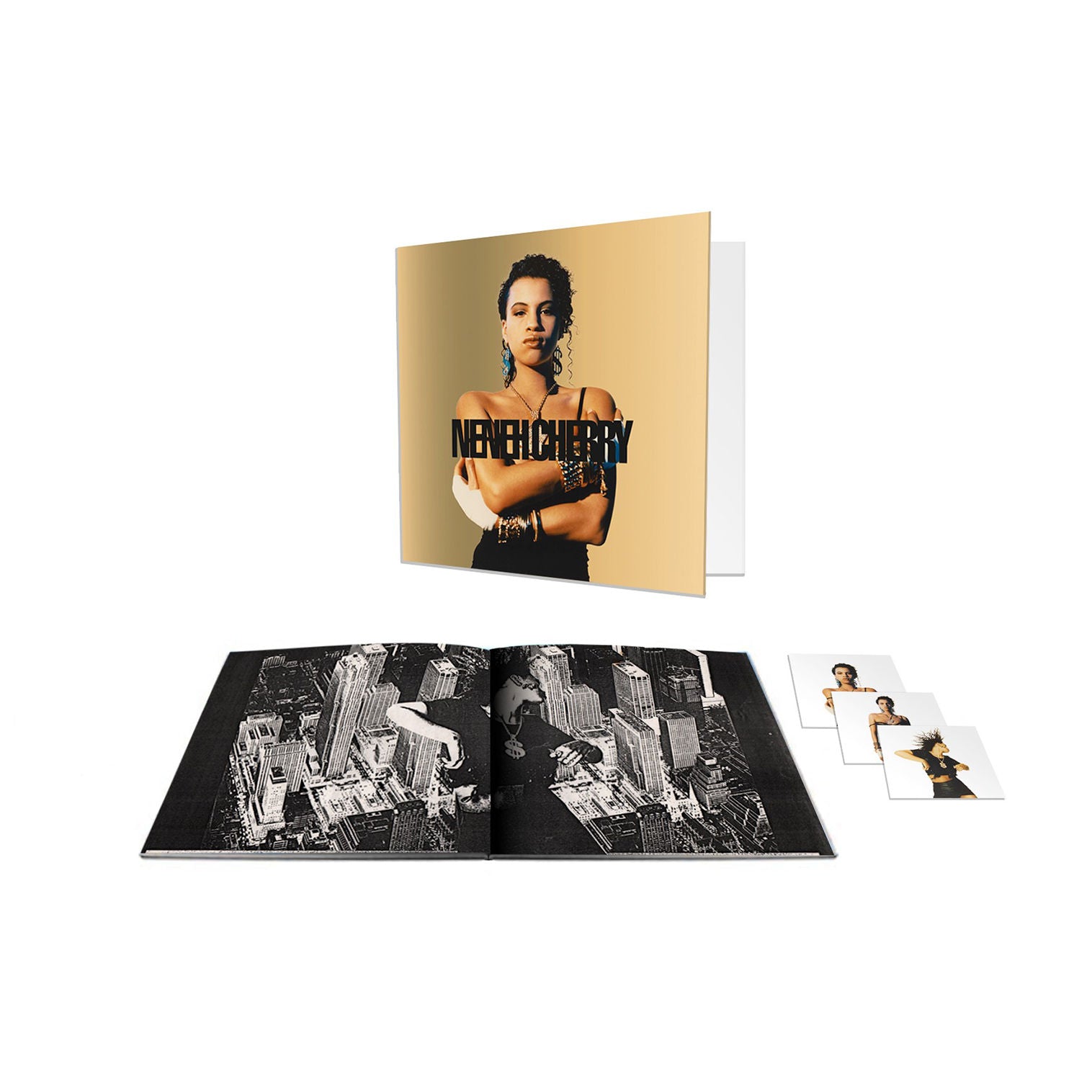 Raw Like Sushi: 3CD Box Set
Release date: 5 June, 1989
Formats: 

CD Box Set
Label: 

Virgin
SKU:

7767797
Description
Three discs in a 12 x 12 gatefold sleeve, including original album remastered and two bonus discs of b-sides, remixes & extras
Three single-sleeve wallets housed in the back of hardback 'folder'
Includes a stunning 48-page 12 x 12 full-colour book featuring new interviews, liner notes, period photos, single sleeves and memorabilia.
30th anniversary of Neneh Cherry's classic hit album Raw Like Sushi (1989),"an unorthodox and brilliantly daring blend of R&B, rap, pop, and dance music", sees the original album remastered and given the super deluxe treatment as a 3CD box set.
This box set features a 48-page 12x12 book packed full of iconic photos, new interviews, liner notes and memorabilia. The album features 5 singles - includes the worldwide smash hit single 'Buffalo Stance' (number 1 US Dance Chart) as well as hit singles – 'Manchild' produced by Massive Attack's Robert Del Naja, 'Kisses On The Wind', 'Heart' & 'Inna City Mamma'. Also features rare mixes of key tracks by Massive Attack, Arthur Baker, Smith N Mighty, and more.
CD 1 – Original album
Buffalo Stance
Manchild
Kisses on the Wind
Inna City Mamma
The Next Generation
Love Ghetto
Heart
Phoney Ladies
Outre Risque Locomotive
So Here I Come
My Bitch
Heart (Its a demo)
CD2 – extras
Buffalo Stance (Sukka Mix)
Buffalo Stance (Electro Ski Mix)
Buffalo Stance (1/2 Way 2 House) Remix - Arthur Baker
Buffalo Stance (Nearly Neue Beat) Remix - Arthur Baker
Buffalo Stance (Kevin Sanderson's Techno Stance Remix One)
Manchild (Old School Mix)
Manchild (Massive Attack Remix)
Manchild (Massive Attack Bonus Beats)
Manchild (Smith N Mighty Remix)
Manchild (Smith N Might More Bass - Less Vocal Style)
CD3 – extras
Inna City Mamma (Re-recorded Extended Version)
Inna City Mamma (Cold Blooded Remix)
Kisses On The Wind (12" Spanish Mix)
Kisses On The Wind (David Morales 'A Little More Puerto Rico' mix)
Kisses On The Wind (Dynamic Duo + Latin Rascals Mix)
Kisses On The Wind (Lovers Hip-Hop Extended Version)
The Next Generation (Rap One Mix)
The Next Generation (Sub-Woofer Mix)
Heart (Club Mix)
Artist:

Neneh Cherry